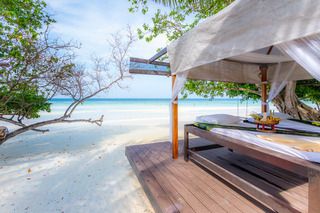 Our sole aim is to make your honeymoon a once in a lifetime experience, because we know your special day does not end once the wedding is over. On your luxury honeymoon every day will be special thanks to our quality locations and the exquisite service you'll receive. Start your married life as you mean to go on; with unforgettable memories that you'll both treasure forever.
After all the stressful wedding planning, now is the time to completely unwind with a luxury honeymoon. Sit with your other half as you sip champagne and gaze out over the Mediterranean Sea, or say goodbye to the pre-wedding diet as you indulge in exquisite, authentic cuisine of the local culture. Go that one step further as you up the relaxation levels and pamper yourselves with a tranquil couple's massage. Choose to celebrate your happy union and the start of married life with a honeymoon oozing luxury at one of our elite destinations.
Your honeymoon signals the start of something new and special so it's the perfect excuse to travel with your spouse. Soak up the breath-taking landscapes as you explore new settings and try exotic foods whilst learning about the culture and history behind your honeymoon destination. However, we understand if you don't want to leave your hotel – so luxurious and stylish you'll want to stay forever. Our luxury accommodation is perfectly tailored to honeymoons, leaving you in post-wedded bliss on the romantic escape of a lifetime.